About
Welcome to Creekside Christian Academy (CCA). Located right beside South Forsyth High School, we are one of the most well-known private preschools in the area and the ONLY Christian-based, state-licensed, and accredited preschool in South Forsyth.
Creekside Christian Academy (CCA), established in February 2006, remains one of the largest Creekside Children's Ministries to date. Here at CCA, we partner with parents to offer a Christ-centered, loving, and nurturing environment where each child can be encouraged to develop their own unique personalities and God-given talents.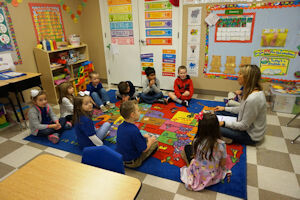 Our program serves over 200 children on a daily basis between the hours of 9:00 a.m. and 1:00 p.m, with daily extended enrichment activities for an additional fee. We are licensed by the state; however, we run on "Creekside ratios," which are lower than state requirements.
Degreed, experienced, and fully trained teachers lead our classrooms at CCA. The academic curriculum is introduced at two years of age using ABC Jesus Loves Me, Handwriting Without Tears, Zoo-Phonics, Every Day Counts and Saxon Phonics, Spelling and Math are implemented through our three, four, and five-year-old and Kindergarten classes.