Date Night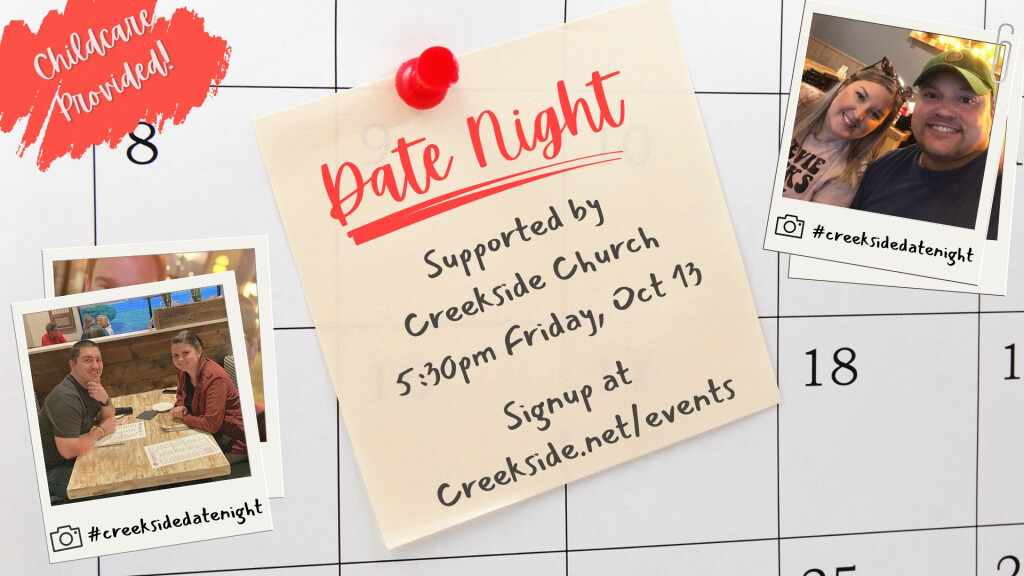 We had such a great response to our first Creekside Date Night, so we have decided to do it again!
We all live such busy lives with so many things needing our attention, but our marriages need to be prioritized and nurtured. Our hope is that all Creekside couples will set aside the evening of October 13th to focus on their marriage and spend some quality alone time together (off-campus). To help make this evening a reality for our families with young children, the church is offering to watch your kids (5th grade and younger) from 5:30-8:00pm.
We are asking for a flat $10.00 registration fee per couple if you will be needing childcare. (Max $10 no matter how many kids you have). This registration will help us make sure we have an appropriate number of childcare workers. Your children will receive a pizza dinner and dessert and have lots of fun while you enjoy some alone time off-campus with your spouse. Marriages are important, so even if you don't need childcare, please take this opportunity to celebrate and prioritize your marriage.
Please complete the Off-Site Wavier after completing your registration. We must have one waiver signed per child that is left in our care while you will be off campus. These waivers will also be available at the event.